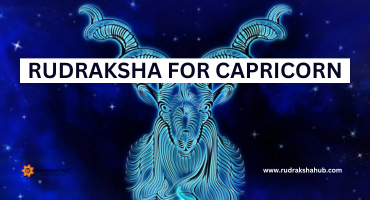 Rudraksha for Makar (Capricorn) Rashi
Capricorn is the tenth sign from the twelve zodiac signs in the astrological universe of ancient Hindu Vedic astrology. Also known as Makar Rashi in Hindu Vedic Astrology, Capricorn is represented by the symbol of a goat, however, partially, there is a tail of fish also showing a small overlap with the Pisces zodiac. The good time of Capricorn starts in January and lasts for the entire good time period of six months per year.
Makar Rashi people are very sensitive to their growth and development. They are very ambitious and they tend to keep very high targets for themselves. The good part of this is that they are very ambitious as well as hard-working so they put all in themselves to achieve these targets but there are moments when the targets become unachievable and in those times, the actual resilience of Capricorn ascendants can be seen. They become irresistible and very difficult to handle. They have a tendency to get all that they want in whatever way possible, mostly hard work, but if the target becomes out of reach, they will bend every corner to bring it within reach.
Capricorn rashi people are also very normal, down-to-earth people with minimum to no expectations from any situation, so they begin from zero and yet take things to a level where no one has ever imagined them to be possible. They are also very easy to adapt to any situation and although they are not exactly the definition of a society, they are not even anti-normal. They blend in quite easily despite the fact that they are neither introverts nor extroverts. They are able to take things lightly when tension is not needed and the paramount necessity is to make sure that they keep a calm mind, but when there is anything that needs them to be mature, they are badass and they rock it in every role they sponsor.
Capricorn rashi people have the guts to find the right path to everything they need and thus, they have the ambition to be better than they were. Makar Rashi people have the enthusiasm to improve everything for the betterment of themselves and thus, they are also very competitive and love to win. This is where they are perceived as rude, selfish, and even unemotional where winning and achieving their target is what they need and many times, the perspective of victory they hold is very different from the perspective of victory others understand. Makar zodiac ascendants have the tendency to be the true version of themselves because they are very bad liars and this also lands them in trouble maximum times.
Apart from this, Capricorns have a knack for time management and cannot afford to be late or held up in any situation. They are perfect or almost perfect with their judgment and thus they are able to manage things on time efficiently. Makar Rashi ascendants have the habit of making sure things are better even before they are reminded of it and thus, they have the benefit of being in the elite club of know-it-alls. This is why they are also known as the knowledge repository of the group and there are many times this becomes a bane rather than a boon. Capricorn zodiac ascendants are either very talented leaders or highly creative employees because they understand things a little differently than the others.
All these factors add a little confidence within the Capricorn rashi ascendants and this is also why they are quite humiliated as well. They are looked down upon as people with varied focuses and needing perfection. People sometimes hate them only because they are right all the time and they work hard to get what they want. There also have been instances when the entire circle of Capricorn rashi people has wanted them to fail miserably and not be able to recover from the same. This is why, Makar Rashi ascendants should wear Rudraksha best for them and also that can remove these issues of trustworthiness or emotional connect. Also, they need a Rudraksha that can continuously help them hone their own skills in the best possible manner and keep working hard to get what they have ever desired or they definitely deserve to get.
Rudraksha for Makar (Capricorn) Rashi
7 Mukhi Rudraksha is the best Rudraksha bead for Capricorn Rashi people because 7 Mukhi Rudraksha is ruled by Shani and this is common between Capricorn ascendants and 7 Mukhi Rudraksha as well. 7 Mukhi Rudraksha helps the wearer in getting protection from evil eyes and negative energies. Naturally, when Capricorn people perform best at their work, they invite a lot of onlookers and admirers. But they also attract a lot of evil eyes because someone's flesh is someone's poison. This is why the wearer would understand that they will get protection from the negative and ill energies of the planet with 7 Mukhi Rudraksha. Moreover, Capricorn Rashi is also governed by Saturn, which means that the ruling planet and the blessing planet are the same for Makar Rashi and thus Capricorn rashi can wear 7 Mukhi Rudraksha for their daily use and prevention from anything bad that has happened or will happen. Alongside 7 Mukhi Rudraksha giving the wearer good vibes and blessings of Shani, they are also blessed with the acquisition of money. 7 Mukhi Rudraksha is also governed by Goddess Lakshmi which means that the wearer is able to have the blessing of wealth and finances in their daily lives so that they are able to manage their needs and requirements properly. Thus, the wearer of 7 Mukhi Rudraksha is never deprived of what they want and the resources to allow them to work for their desires and deserve those desires.
14 Mukhi Rudraksha is also the Rudraksha bead for the Makar Rashi people. People who have an active interest in making their life an example template to be followed should definitely try wearing 14 Mukhi Rudraksha if their budget allows it. 14 Mukhi Rudraksha is not just governed by the Shani planet and Goddess Mahalakshmi, but also by Lord Shiva, Lord Hanuman, and Lord Ram. This is why, the wearer of 14 Mukhi rudraksha becomes not just the apple of everyone's eye but also invincible and laser focused. Now judging by the characteristics of Capricorn Rashi, it is very essential that Capricorn Rashi is able to manage their energy and take a good hold of the people around them so that there is no way the other person stays in doubt. Apart from this, the Capricorn ascendants are habitual to get their job done and 14 Mukhi Rudraksha is nothing but an addition to the same goal. The reason why everyone trusts 14 Mukhi Rudraksha is because of the power it bestows and the value it holds. This is why the Capricorn ascendant cannot shy away from assured success in their goals as well as the understanding of the fact that 14 Mukhi rudraksha will get them away from the ill-will of others. Thus the wearer of 14 Mukhi rudraksha is also free from the useless and baseless criticism of the wearer while they are in the constant pursuit of attaining their goals willfully, gleefully, and unapologetically.
Anyone who feels that Capricorn people are very self-centered as they only look forward to growth, success, and development either understands that they were being the crabs in the journey of glory and success or are blocked by 7 Mukhi Rudraksha and 14 Mukhi rudraksha from the lives of the Capricorn person so that the wearer is never subjected to such accuses again when they are working hard continuously. So, be whatever, but 7 Mukhi Rudraksha and 14 Mukhi Rudraksha will never let the wearer's hard work be subjected to constant criticism, and that too under the negative purview of making things sad and bad for the wearer. Therefore, if possible financially and otherwise, a Capricorn ascendant should wear a combination of 7 Mukhi rudraksha and 14 Mukhi rudraksha so that what they want is what they are able to work for and deserve the same to achieve it.
This does not mean other Rudraksha beads are not as good as 7 Mukhi Rudraksha or 14 Mukhi Rudraksha. Rudraksha beads have no side effects so if the bead does not help the person, they will never have a bad impact, thereby making the wearer only positively inclined for happiness, success, and growth.
Read more about other zodiac signs here. Read more about Rudraksha beads and other religious and spiritual facts here. Check out Rudraksha Hub's new arrival stock here and be updated about the latest developments in Rudraksha and the religion and spirituality industry here.
You can connect with Rudraksha Hub at wa.me/918542929702 or info@rudrakshahub.com and we shall be happy to assist with anything that will help you. Till then, keep reading and keep worshiping only in association with Rudraksha Hub..!!