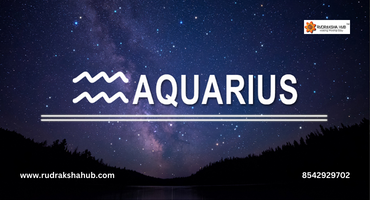 Rudraksha for Kumbha (Aquarius) Rashi
Being the eleventh sign in the astrological universe, Aquarius is the zodiac sign associated with progressive thinking, continuous improvement, and perfectionism. The final Air symbol represents Aquarius, defining the concept of its relation with everything related to air and air-related problems.
The Aquarius zodiac sign or Kumbha Rashi is a representation of extreme positivity. There is a huge chance that the person of Aquarius nature is very progressive in thinking about the next course of action than being stuck at any bottleneck because Aquarius people like to be prepared for everything. Although, this does not mean they switch fast to the next course of action. Even if they know what to do and how and when and where they will be stuck where they were because they are very hard-headed. They do not like to leave things where they started. So, in order to finish what they had started, they do not like to leave things and take a different route to achieve their goals but the moment they see someone else is stuck, they would try their level best in trying to get them to move on and be better. The same solution is not applicable to them due to their nature of knowing what to do, yet not doing what they know.
Kumbh Rashi ascendants are very prone to getting into trouble. They have a tendency to keep trying something new and different than the others and this leads them into exploring the road not taken normally by the people at large. This is why they are a little adventurous in nature and they enjoy making a new route for themselves. This is a good thing, but their stubbornness to not give up when there is no way out and their behavior of trusting their process of work makes the ascendants of Aquarius land into a new problem even before they know it.
Aquarius is the eleventh constellation in the universe and is very near to Pisces and Cetus. The presence of the Sun in between the Aquarius zodiac from 20 January to 18 February makes the ascendant a ruler of the Aquarius zodiac and thus, the Kumbha Rashi people are highly prone to excellent thinking and not-so-excellent execution of ideas.
In general, people with Kumbha Rashi are very rebellious and they have a constant adrenaline high in revolting against the normal line of behavior. They enjoy standing away from the crowd, even if it is illogical or might involve trouble. They even enjoy appreciation a lot and thus, the more rebellion they hold, the more passion for happiness, love, and emotional sensitivity runs in their veins and system.
Astrologically, Aquarius zodiac ascendants appear very smart, bold, and confident, but they also are highly emotional and sensitive to the smallest of things. If the Aquarius ascendant is on the cusp of losing out, they switch to the bravest and bold person ever imagined in them. The same person breaks down into an emotional wave the moment they meet someone they can trust and believe upon.
Since Aquarius person is very sensitive and headstrong at the same time, they have terrible mood swings. This is why the Kumbha Rashi people are suggested to practice sharing and talking. They can be highly creative but are introverted and thus, they don't shy away from rebelling, but they definitely avoid a conversation for the same. They will execute their ideas on a whim and if they succeed, they would want a lot of appreciation, but if they fail or land in trouble, they would then only need someone trustworthy to hold them, handle them, and support them again take a new challenge and bring on a new problem like a task at hand.
These traits make the Kumbha Rashi ascendant highly susceptible to intelligence because they enjoy being the smartest person in the room with a larger-than-life perspective. All these traits make the wearer compatible enough for wearing Rudraksha beads and improve their outlook towards life and save themselves from the unwanted problems that can arise due to other Aquarius or their own habits.
Rudraksha For Aquarius (Kumbha) Rashi
7 Mukhi Rudraksha is suggested for Aquarius because they are big risk-takers and very stubborn. They need to learn that the risks they take have to be balanced with an alternate source of energy and positivity and that can be brought in by 7 Mukhi Rudraksha. This bead is blessed by Goddess Lakshmi, so the trouble of money and financial instability while making a rebellion will not stand as an issue. We all understand that the problem of starting out something new and different is often stopped in the middle due to the cash crunch and 7 Mukhi Rudraksha is there to take the responsibility of not letting the financial crisis stop the person from any new activity they decide to undertake.
7 Mukhi Rudraksha is also governed by the planet Saturn (Shani). It is a very important and promising planet because Shani takes care of the ill-eye and evil energies of the wearer of 7 Mukhi Rudraksha. Hence, anyone who wears 7 Mukhi Rudraksha will be blessed with the power to save poverty on them as well as prevention from enemies in all regards. The wearer of 7 Mukhi Rudraksha is safe from all types of problems related to Shani like Shani ki Dhaiya, Shani ki Saadhe Saati, and Shani ki Saadhe Baisi. Also, the wearer of 7 Mukhi Rudraksha gets protection from the negative vibes of their enemies so that there is a high possibility of the person capturing the world better and not having the tension of how to safeguard themselves while on a mission.
The best Rudraksha for Kumbha Rashi is 7 Mukhi Rudraksha for one more reason. The 7 Mukhi Rudraksha bead has a capacity for controlling the excessive impulse nature of the wearer. Kumbha Rashi ascendants are highly impulsive and they are very stubborn. This is why they face a huge set of problems that could have been avoided at any cost. The 7 Mukhi Rudraksha bead, therefore, manages to tone down the adrenaline of the wearer so that they are not prone to calling troubles on themselves due to their own scenarios.
Apart from the 7 Mukhi Rudraksha, 14 Mukhi Rudraksha is also good for Aquarius Rashi. The only issue with 14 Mukhi Rudraksha is the price of the bead because 14 Mukhi Rudraksha is very expensive and a little rare to find a good bead. This is why, the ascendants of Kumbha Rashi generally opt for 7 Mukhi Rudraksha, which is an alternative to 14 Mukhi Rudraksha.
14 Mukhi Rudraksha is ruled by Lord Hanuman, so taking care of the enemies, negative energies, ill omens, evil eyes and anything that can be harmful to the wearer can be managed by 14 Mukhi Rudraksha. This way, the Aquarian can take as many risks as possible, but there is a high possibility that each time the 14 Mukhi Rudraksha will stand in the way of the wearer and the problems to take care of the wearer. 14 Mukhi Rudraksha is also blessed by Saturn, so the protection against enemies is also taken care of. Along with this, the blessing of Lord Ram and Goddess Sita is also available for the wearer of 14 Mukhi Rudraksha. Also, the wearer of 14 Mukhi Rudraksha gets the blessing of Goddess Lakshmi and all the above-mentioned blessings which means the financial crisis is also solved. This is exactly why 14 Mukhi Rudraksha is considered an all-in-one rudraksha bead that has high benefits and maximum advantages.
In case the wearer is not able to wear 14 Mukhi Rudraksha, then there is 7 Mukhi Rudraksha as its alternative. The most important aspect is to keep the Aquarius ascendant happy and satisfied with their belief system while making them capable to take on their desires even if they are rebellious at all levels. This can be achieved by 14 Mukhi Rudraksha as well as 7 Mukhi Rudraksha in the best possible manners.
However, this does not mean that only 7 Mukhi Rudraksha and 14 Mukhi Rudraksha can be worn by the Aquarius zodiac ascendant. Rudraksha beads do not have side effects so anyone can wear any Mukhi Rudraksha and they will only gain positivity.
Conclusion
Aquarius Rashi can wear 7 Mukhi Rudraksha and 14 Mukhi Rudraksha but wearing any other Mukhi is also equally healthy and perfect. There is no limit to the number of Rudraksha to be worn and since Aquarius ascendants have the habit of not being able to stand to the ordinary and break out in the format of extraordinary, they need some external energy to handle their issues so their focus stays unconflicted and unbiased in all manners. Aquarius are frequent risk takers and they need to handle all the problems created due to this process in due course so that no one needs to compromise with their approach to life. Prevention from enemies, protection from ill-omen, ghosts, and negative energies, and freedom from the ill effects of poverty is the main reason why Aquarius needs to have a shield around them and with 7 Mukhi Rudraksha, they are sure to have the best-of-the-best handle everything properly and professionally, with no harm to anyone, or at least, minimum harm inflicted in the process. Read about more Rashi and Zodiac signs only on our website and blog section here.