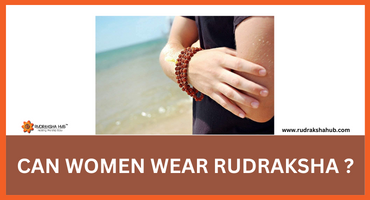 6 Most Beneficial Rudraksha For Women
One of the most pertinent questions that have been asked over multiple years by people is, Can Women Wear Rudraksha? This seems like a very patriarchal question and hence, addressing this becomes an important part of our working duration.
Yes, women can wear Rudraksha beads. We all know that Rudraksha beads are the representation of Lord Shiva's tears that solidified on Earth when they fell rolling down from his eyes to his cheeks and finally on the floor of Kailash Parvat (The Kailash Mountains) where he was residing and meditating.
The famous story about it is that one time, Lord Shiva was meditating in peace at his place in Kailash Mansarovar Mountains and he witnessed the undue pain and agony the humans and his own people were suffering on Earth. He was very sad about this.
He did not remember when but his eyes started to puff up with tears of pain and agony. He started sobbing and since he was meditating, he did not open his eyes. Since the tears got no space to subside due to this, they rolled down his cheeks.
When the people around Lord Shiva saw these tears falling on Earth and solidifying due to the extreme temperatures of the mountain, they started collecting them. They thought it was some kind of return via meditation and they did not know what was coming next.
When Lord Shiva came out of meditation, everyone told him what had happened.
Stunned, Lord Shiva announced that these were the Aksha (tears) of Rudra (Lord Shiva's name). So these will be called Rudraksha and anyone who wears them will be free of different issues and problems they are facing.
Thus, Rudraksha beads became the symbolic representation of Lord Shiva's blessings.
We all know, Lord Shiva has always kept his wife and women's power, Shakti ahead of him in all regards. We also know that Shiva is half as powerful without Shakti and Shakti is non-existent without Shiva.
This means that the Gods never differentiated between Shiva and Shakti. It is we humans, who put in their own brains to divide the power and blessings using gender as a cause.
Lord Shiva has blessed Rudraksha beads in the most efficient manner.
When his subjects at the Kailash mountains asked him why pain occurs and how to handle it? He replied with Rudraksha beads and talked about how they will heal people with their issues.
Since there are more than 100 different types of Rudraksha beads, depending upon Lord Shiva's tears at that time, people were curious as to which bead will cure what. Then, Lord Shiva connected the different faces of Rudraksha beads with different scenarios and different Gods and Goddesses.
Thus, all types of pains, problems, issues, and others along with all the planets and all the Gods and Goddesses were covered under the categorization of different faces or Mukhs or Mukhis of Rudraksha beads.
Some of these beads or faces got the benefit of being more beneficial for males and some of these got more beneficial advantages for the female gender. There were categorizations done for the third gender as well. All these things are explained very clearly in the Shrimad Devi Bhagavad Purana and Shri Rudraksha Jabala Upanishad of Sama Veda.
This does not mean that the beads are good only for males or are only good for females and the other gender cannot wear them. It only means to say that there are more advantages to someone and less to some others in case-specific matters.
Since we are focussing on the best Rudraksha beads for females, let us see the six best Rudraksha beads for women as per the Hindu Vedic literature as follows:
2 Mukhi Rudraksha
A combination of Lord Shiva and Goddess Shakti make this Rudraksha bead, 2 Mukhi Rudraksha bead is the bead of Lord Ardhanarishwar. It is the bead of the Moon and anyone under extreme stress, depression, tension, anxiety, panic, or any other kind of mental health issues can wear 2 Mukhi Rudraksha.
Generally, women face this scene due to discrimination and suppression in society and thus, this is one of the best Rudraksha beads for women. Know more about 2 Mukhi Rudraksha here.
6 Mukhi Rudraksha
6 Mukhi Rudraksha bead is technically the bead of warfare and emotional control. It is even governed by Lord Kartikeya. Thus, a lot of people might not know why 6 Mukhi Rudraksha is best for women.
But what a lot of people do not know is that Lord Kartikeya is known as Skandaputra, meaning the son of Skand, and Skand is no other than one of the Nav Durgas, Skandamata. So, Lord Kartikeya has learned to live and fight everyone from his mother, Skandamata and thus, he got to represent 6 Mukhi Rudraksha.
Therefore, wearing 6 Mukhi Rudraksha for women is no more than a boon for the person because they get to fight the evils of society against them in the best possible manner while keeping a check on the extreme issue of emotional roller coaster rides. Know more about 6 Mukhi Rudraksha here.
9 Mukhi Rudraksha
Representing the Nav Durga and the Nav Grah, the 9 Mukhi Rudraksha bead governs the entire women clan in a go and makes sure that the people wearing are empowered with power, confidence, fearlessness, and fierceness to be the best among all.
9 Mukhi Rudraksha makes the women's community a united force and governs all the female hormones needed at all times in place so that there is no possibility of any kind of deviation and the desired result is achieved without any issue.
9 Mukhi Rudraksha and 9 Mukhi Gauri Shankar Rudraksha, therefore, help the females a lot. The women who are facing any kind of marriage troubles where they are facing female suppression or domestic violence can take the help of the 9 Mukhi Gauri Shankar Rudraksha bead because it will empower them to take a bold step and make themselves heard.
Finishing a relationship is not easy and taking your own stand against something wrong or bad is even more gutsy. For such a reason, wearing 9 Mukhi Rudraksha or 9 Mukhi Gauri Shankar Rudraksha will help the wearer in getting over the issues they are facing in their lives. Know more about 9 Mukhi Rudraksha here.
7 Mukhi Rudraksha
The bead with the ruling Goddess as Goddess Lakshmi, 7 Mukhi Rudraksha is the bead of wealth and prosperity and also the bead to prevent you from poor or bad influences and negative and evil energies.
7 Mukhi Rudraksha is the Rudraksha bead that is worn to avoid poverty and bad financial crisis. People who have a lot of money but do not know how to manage it or the people who do not have the money and need to save themselves from poverty are the ones who wear 7 Mukhi Rudraksha.
Financial independence is very important for women, considering the situation right now they are facing. In maximum cases, the women are faced with the scene of financial dependence whereby, they are dependent upon their male counterparts for financial matters.
7 Mukhi Rudraksha helps the women here and makes them capable of being able to handle their own needs without needing any dependence upon anyone, male or female. Know more about 7 Mukhi Rudraksha here.
17 Mukhi Rudraksha
Dedicated to Goddess Katyayani, the 17 Mukhi Rudraksha bead is the bead for early marriage and happily ever after. It is also for the people who are not getting married or are not able to find their lifelong spouses or counterparts the way they desire.
Thus, 17 Mukhi Rudraksha makes the wearer capable of finding the right vibe, the right energy, and the right person to stay with forever.
It is considered one of the only blessings in Rudraksha beads because people who are losing all hopes of getting a good marriage and a good relationship get what they want. However, this is not only focused on females.
Even males who need the same love and affection can wear 17 Muhi Rudraksha. This bead is more suited for the females only because they have to be a little more careful with their selection so as to avoid being in tension later. Know more about 17 Mukhi Rudraksha here.
18 Mukhi Rudraksha
Dedicated to Bhoomi Devi, the Goddess of Earth, 18 Mukhi Rudraksha is very good for women because the women who lose their ground in the course of getting ahead with their lives.
People who have forgotten their roots and who still want to connect to their roots should wear 18 Mukhi Rudraksha.
Additionally, it is good for the female reproductive system as it blesses the females with a good cycle and a healthy uterus so that the baby is conceived nicely and is happy and secure in their life. Know more about 18 Mukhi Rudraksha here.
Bonus
There is one more Rudraksha bead which is considered great for women specifically. Although that has a specific objective attached to it only. This bead is Garbha Gauri Rudraksha which is worn by females who are interested in getting pregnant, conceiving a baby, and nurturing it for reproduction.
Females who do not want to get pregnant because either they are already pregnant or who only want healthy growth of their children can also wear this Rudraksha bead blessed by Gauri (Shakti/ Parvati) and Lord Ganesha. This bead was created when Lord Ganesha was in the womb of Guara and the health of Shakti was in question.
Lord Shiva blessed the Garbha Gauri Rudraksha bead to take care of the mother and child's health both during pregnancy and post-delivery as well so that the health of the mother and child is never at risk. Know more about Garbha Gauri Rudraksha here.
Having said that, we do not intend to say that these beads cannot be worn by males or should not be worn by males. We also do not imply that only females can wear it and that no other gender is allowed to wear it or will not benefit from it.
As everyone knows, rudraksha has no side effects and no negative effects, anyone can wear any Rudraksha bead. The positive effect mostly depends upon the Rudraksha beads' alignment with the wearer's birth charts and if they do not, there is no effect then. The effect is never on the negative side.
Keep reading more intriguing facts about Rudraksha, gemstones, religion, and spirituality in our blog section here. Check our new launches every day here. Also, make sure to follow us on our social media for the news and brewing. Till then, keep reading, keep learning, and keep worshipping from Rudraksha Hub..!!