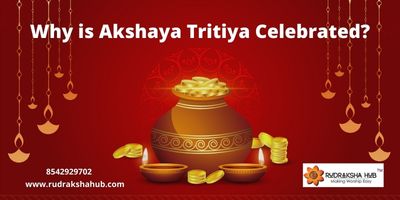 Why is Akshaya Tritiya Celebrated?
Akshaya Tritiya or Akha Teej is celebrated on the third day of Vaishakh month or Baisakh month. It is a celebration of threefold prosperity, success, happiness, and loads of growth and joy. This is the third phase of the moon and this day represents innumerable and never decreasing happiness, fun, hope, joy, and success.
This day is considered auspicious for celebrations like marriages, new business ventures, making investments, or making new decisions. It is a day to remember the ancestors and the demised loved ones. It is said that anything done on this day triples itself. So, as many good deeds that can be done on this day, should be done. The results will be tripled. Also, any kind of bad deeds should be avoided on this day. The results will be tripled as well.
In general, people fast on this day, worship their Gods and Goddesses and give food to the poor and needy. People also donate to charity and provide help and support to the ones who require any support. Any act of kindness and tenderness is considered to confirm a seat in heaven. Any act of immaturity makes sure that the person will have to take with them three times more pain they cause others on this day.
Story of Akshaya Tritiya
There is a story behind this festival in Mahabharata. Once while in their exile as Agyatvaas, the Pandavas could not find any food and they were on the verge of losing their balance and life. They were famished and were in a lot of pain due to a lack of food and hunger. Draupadi, the Pandava wife was very upset as she was not able to make the best of her wife's duties. She felt bad because she felt responsible for their pain and troubles. She tried everything in her control and was not sure how she will fulfill her duties of being the Annapurna of the house. In older times, wives were considered Annapurnas, or the Goddess of Food and prosperity. When the eldest Pandava Yudhishthir understood that they will not be able to survive another day without food or water and there was no hope other than praying, he prayed to Lord Surya for help as Surya is the source of energy and hope. Lord Surya gave them a magic bowl with the powers to bring in as much food as they want and that the pot can satiate their hunger forever. There were only 2 conditions:
The pot will give as much food as needed but only once a day.
No amount of food can be wasted or else, the pot will not work from the very next day.
One day, while the Pandavas had just finished their food, Lord Krishna arrived in the jungle with lots of guest saints and asked Draupadi if she could spare some food for the saints. Draupadi felt apologetic and was at the loss of words as they had just finished eating and wound up the pot for the day when the guests had arrived.
Lord Krishna took the pot and looked inside it. A small grain of rice stuck to the bottom of the pot and was left uncatered to. Lord Krishna ate that grain of rice and the next second, at his snap, the guests started feeling three times more full than their capacity to eat. Suddenly, they forgot they hadn't eaten anything and remembered only that they came to have lunch and they were fully satiated. So, they blessed all the Pandavas and Draupadi with unlimited happiness and also pronounced that whoever worships Lord Surya on the third day of Baisakh month will never be left unattended and will always have three times what they give to others.
Geographical and Festive Importance of Akshaya Tritiya
This festival is celebrated differently in different parts of India. We will discuss some of the beliefs to the best of our knowledge ahead in this blog.
The ardent believers of Lord Vishnu believe that Lord Parashurama, the sixth incarnation of Lord Vishnu was born on the day of Akshaya Tritiya. They call it the Parashuram Jayanti.
The believers of Lord Krishna treat this day as Vasudeva, Lord Krishna's day. They offer different food items to their Lord in return for a lot of happiness and excitement in their lives and their loved ones' lives.
The worshippers of Lord Ganesha celebrate this day as the time when Rishi Ved Vyasa started to narrate Mahabharata to Lord Ganesha so that he can further teach his disciples and make them aware of the culture and rich texts of Vedic literature. This day is celebrated as Mahabharata day by them.
The Shaiviks or the followers of Lord Shiva consider this day as auspicious as they believe Goddess Ganga came down for the first time on earth intending to do good to society. Also, the gates of Kedarnath, Yamunotri, Gantori, and Badrinath, the four locations of Char Dham Pilgrimage open on Akshaya Tritiya after a tough winter season in those areas.
People of Dwarka also observe this day as the day when Sudama arrived in the court of Lord Krishna to meet him and greet him with his childhood friendship memories.
Some priests believe that even Lord Kuber was given the position of the preserver of the wealth of the Gods and Goddess on this very day. He was announced as the Lord of Wealth on Akshaya Tritiya.
In Odisha, the farmers celebrate this day as Akhi Muthi Anukula, meaning the commencement of the season of paddy farming and Kharif crop seed sowing time. The Rath of Lord Jagannath is also taken out for a ride on this very day.
Telugu-ites celebrate this day with blessings from Simhachalam, a festival where the sandalwood applied on the deity's idol is scrubbed for the first time in the year to reveal the actual deity idol once he year. Women purchase jewelry and celebrate the incoming wealth season in their lives.
In Rajasthan, the kite is flown and it is believed that all the bad will fly off with the kite and all the goodwill come down from the skies to the people and their families when the kit comes on the ground.
In Jainism, it is believed that Lord Rishabhdev, the first Tirthankar did a Parana of his fast by drinking the sugarcane juice in his cupped hands. The devotees also observe Varshi-Tap fasting and open their fasts by drinking the sugarcane juice from their hands.
Conclusion
In all the above-mentioned beliefs and customs, there was one common fact every time there was an act of positivity and kindness in return for an act of positivity and kindness and loads of blessings from the respective Gods who were worshipped.
Therefore, Akshay Tritiya is considered one of the best measures for people to understand the fact that this day is here for marking the beginning of a new life and a new start from the old thought processes.
There have been many ways to celebrate that, but the common effect to give good and get good still prevails, and thus, Akshaya Tritiya is one of the most rewarded festivals uniting the entire India with different customs, but one festival and one ambition.