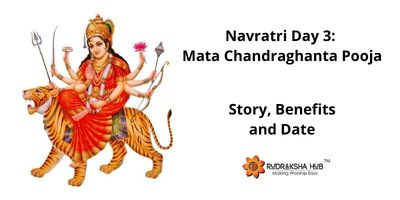 Mata Chandraghanta Pooja: Benefits, Importance and Dates
Day 3 of Navratri is celebrated as Mata Chandraghanta's Day. This day is the symbol of love, loyalty, acceptance and understanding. Goddess Chandraghanta was a form of Parvati taken on the Day 3 of Navratri to keep her promise of accepting Lord Shiva the way he was and the way he presented himself. Read the story of the same as under.
Who is Chandraghanta Mata?
Chandraghanta means "The one who wears Moon and works at the sound of bells". Parvati, the daughter of the Himalayas had already fallen for Lord Shiva and had asked him to visit her home to meet her parents and family. It was an invitation to ask permission from the family. Lord Shiva knew that he has a very charming and very pleasant personality. But he wanted to check if he was accepted for his materialistic needs, or the love is real. So he took his family of dead men and skeletons (as he is called the Shamshaan Nivaasi, the one who lives at the cemetery). He prepared a skit and transformed himself as a Ramta Jogi, the one who resides in the Jog (ignited Bhasm) of the cremation ground (therefore, ramta, the one who lives there). This was to test if Parvati actually loves him as a person or for his powers. Goddess Parvati understood this, but she was worried about how her family will react to this. Her family was the upper caste Kingsmen and were very particular about the appearance of the boy who would take Parvati's hand for marriage. They wanted her to be happy. When her family saw this avatar of Lord Shiva, they were about to faint and deny the relationship. To save this from happening, Parvati transformed herself into Devi Chandraghanta. She looked a bit angry, scary, and fearless at the same time. She put on ten hands to hold Trident, Mace, Arrow, Bow, Sword, Lotus, Bell, and Waterpot. She holds out her hands in the Aashirwada position and rides the tiger with one hand. She wears a half-moon on her forehead and a garland of a lotus around her neck. This face of her made her parents relax a bit because they felt that this was a made for each other couple, but they were also very confused if they were happy with this couple. Lord Shiva was very impressed with Parvati's love and understanding. He was sure of Parvati's acceptance of him in every form he was or will take. Parvati then persuaded Lord Shiva to arrive like a prince to charm her parents. Lord Shiva believed that Parvati's love was genuine and he returned back with his family of normal people properly like a prince. They then got happily married and went to Kailash for an after-marriage life.
Thus it was believed that worshipping Parvathi as Goddess Chandraghanta on the third day of Navratri provides for resolute decision making and selflessness.
Benefits of Chandraghanta Pooja:
To gain peace and harmony in the family
To choose the correct partner for life
To make up for selfishness and self-centered decisions
To be in the good books of Goddess Durga
To be confident enough to stand up to your decision making
To hold the power of your own decisions
Day and Date of Chandraghanta Mata Pooja:
Worshipped on the third day of Navratri, Chandraghanta Pooja will be done on 04th April 2022. The devotees will seek long life blessings along with a happy married life and a good relationship with zero fights and maximum acceptance of each other's form. Chandraghanta Mata blesses all her devotees with love and emotional care angle and makes sure that there is no disparity between the love swans due to anything.
Where is Chandraghanta Mata Mandir?
Chandraghanta Mata Temple is situated in Chandraghanta Gali, Varanasi (Uttar Pradesh). Devotees come in huge numbers to the temple to offer their prayers and receive blessings in return.
Book Mata Chandraghanta Pooja here at Chandraghanta Temple, Varanasi and receive Prasad and Pooja recordings as well.
Also, we are adding new blogs every day. Make sure to check them out on our website every day. For more stories of God, stay tuned or visit here.
Till then, Har Har Mahadev..!!