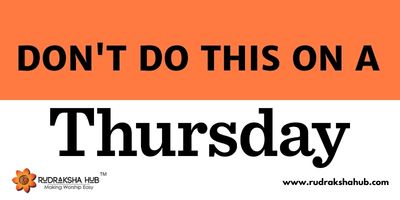 5 Things That Should Not Be Done on Thursdays
Thursday, the fourth day of the week is considered one of those days when certain actions or certain methods are said to be avoided. The intention is to make sure that the individuals stay safe and that the negative effects of some harmful planets do not affect their lifestyle at all. Also, it is to make sure that one day out of the seven days in a week, the individual learns to live with some restrictions and engage the time in something more productive rather than doing the same routine things every day and not trying anything new on a day of restriction.
Mythologically, many things should not be done on Thursdays, but scientifically, not all of them are possible, because the world is a dynamic stage and many turns cannot be avoided. So, some rules have to be broken to follow other rules, or some rules have to be bent or ignored because something more important needs attention than that rule. Hence, we will be talking about five things not to do on a Thursday.
Never Give Money on Thursdays
So this is a very common thing people follow. They avoid making any kind of monetary transaction that involves giving money in any manner to anyone. It is believed that Thursday is a day of Lord Vishnu and Goddess Lakshmi, the controller of wealth is the wife of Lord Vishnu. This is why, on Thursdays, when someone gives money, Lord Vishnu gets angry as the person decides to part away from his wife. This brings bad luck to an extent that the amount paid is said to never recover back. The person will never be able to get the amount back or cannot get the value of the amount back. This is why any payment made on Thursdays will not make anything good for the one who makes the payment.
Never Get a Makeover on Thursday
Haircuts, nail cutting, scrubbing, eyebrows, eyelashes, pedicures, manicures, and the parlor routine have to be put on hold. Even biting off nails and anything that involves getting a makeover has to be avoided on Thursdays. Initially, it was said that use of any sharp objects like knives, or any other instrument that includes sharp edges should also not be used on Thursdays, but with the evolving lifestyle, this became a necessity and hence, the excessive activities that can be done on any other day like a haircut, nail cutting, etc are strictly prohibited on Thursdays. The reason for this is mentioned as Thursday is a day to focus on personality and mental development and if on this day, a person is not comfortable in their skin, they will not be able to do this anytime else also.
Do Not Consume Yellow, But Donate Yellow
Yellow is a color very very dear to Lord Vishnu. He is so fond of Yellow that he only wears yellow Joda (Dhoti Kurta). He is the administrator of the Earth and thus, his need is to be hopeful of everything in his life. Also, yellow means hope and positivity. Hence, on Thursdays, it is said that any food item that is yellow or makes a product yellow in color, should not be eaten on Thursdays. It is Lord Vishnu's food and only it should be donated in temples to priests or needy people so that they can have it and the person who has donated can have a good lifestyle with blessings from Lord Vishnu. Also, wearing anything in Yellow on Thursdays is recommended. It makes perfect sense for the people to donate Yellow to gain blessings and wear Yellow to get attention, hope, positivity, and blessings from Lord Vishnu.
Do Not Buy Oily Or Greasy Items
On Thursdays, oily and greasy items like oil, butter, cheese, ghee, fat, etc. that hold carbohydrates and fat should not be purchased. These items are restricted because of two reasons. One is that these are carbohydrates and are yellow. Purchasing carbohydrates on Thursdays means spending money on Thursdays and spending money on yellow consumable products. Thus, it is suggested to buy these in advance and not wait till Thursdays to buy these items.
Never Broom/ Clean, Especially Not The Corners
Brooming, cleaning, and dusting on Thursdays are not allowed. There is a very old and mythological reason for this. It is said that in general, there is a lot of wealth and prosperity in the corner of the house or a facility. The corners provide for more growth and therefore hold meaning not only in mythology but also in astrology and Vaastu. Therefore, on the maximum growth potential day of Thursday, when someone uses a broom on the floor and in the corners to clean them, they are cleaning and disposing of away the possibility of growth, success, and prosperity in their lives.
There are a lot of superstitions in Hindu texts. They keep suggesting a lot of things to do and a lot of things not to do for a healthy lifestyle. No one says if they are actually true or if they are false, and yet, there is a belief that there will be a good day after everything, and all these things are aimed at improving the lifestyle of human beings. It is a very general belief by many that if these superstitions were made, they were either made due to a lack of knowledge or were made due to a lack of understanding of the fact that these superstitions will be deadly and useless for a lot of people. Thus, in general, it is understood that these superstitions might not necessarily be all true, but they do exist for a reason and it is not mandatory to follow these superstitions, but if it is followed and adhered to and they give positive results, they must be shared with other people so that they are also motivated to help their lives positively and not in the adverse manners like the lives of many who fail to garner belief even if things will be beneficial for them.
Thus, these are the basic understanding and focus of the people on Thursdays to make sure that they do not indulge in any activity that will make their lives difficult and will stop their growth chances and potential in any manner. There are many more beliefs and followings like do not apply hair oil on Thursdays, do not abuse or think poorly of someone related to anything on Thursdays, do not advise someone on doing something new on Thursdays, do not wash hair on Thursdays, and many others that are strictly followed in many houses and are not followed as such in many cultures. But, in general, these restrictions are good to follow restrictions so that there are fewer and fewer tensions to worry about after having dealt with the most difficult task of handling one's desires and set of issues. It is not said anywhere that these superstitions need to be followed exactly to the core, but a try to handle the issues maturely and trying out something wise even if not believable just for once will not cause any harm.