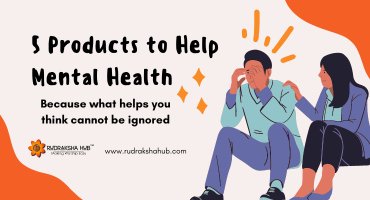 5 Things Helpful In Mental Health Conditions
Mental Health is a serious concern these days. Everyone around you is either a person having a mental health issue or knows someone who does. Why is this such a big problem nowadays?
Let's deep dive into the same to know more.
Mental Health issues arise when the person is not in the right shape of mind. This can happen due to the following:
1. Tension
2. Stress
3. Overthinking
4. Fear
5. Anxiety
6. Emotional Imbalance and many more conditions depending upon the situation
In such a situation, there are multiple issues that people face while trying to make themselves normal and ready for any challenge on Earth.
While in such a race, these people start to hide their issues or problems. They try to put on a regular face even when everything is falling apart.
When the brain has to transform from a situation of zero focus to a case of seriousness, happiness, or anything else, the brain cannot come out of one zone and the other zone becomes difficult to concentrate upon.
Working with such an overfilled brain and nothing that seems to lighten it up, the person keeps trying to fight with everything and keep up with their image.
In such a position, the motivation to talk to someone is either not an option or not possible due to any other issue.
When the person troubled with mental health rots within without being able to find the solution or without being able to find a vent for the same, they start subsiding within their thought processes.
Slowly, they start to create their own shell and they do not trust to engage with the world. This shell of theirs makes them feel comfortable but also a mess because they are always distracted and always in their own zone.
They even lose their charm and they become very secluded. The situation becomes dark and depressing. Thoughts start clouding towards negativity and a cluster of activities follow that the brain is not thinking through.
Certain times, the person starts feeling the load of their own thoughts and problems with themselves and they are either afraid to talk about it outside or don't know what they are feeling and why so they can talk about it. In such cases, there are medicinal problems also detected when things go out of control.
Some of the most common mental health issues reported are:
1. Depression
2. Anxiety disorder
3. Overthinking
4. Excessive Stress
5. Migraine
6. Headaches
7. Frequent Mood Swings
8. Excessive vomiting
9. Personality Disorder
10. Anger Issues
11. Bipolar Disorder
12. Binge eating
13. Panic attacks
14. Intuition and doubting
This is an ongoing, non-exhaustive list of the issues the person faces. Anyone can have one or multiple of these issues if there is anything in mind that is not expressed or is not solved properly.
There are multiple solutions to these mental health issues, some medical, some non-medical.
Consultations with psychiatrists, brain experts, neurologists, or relevant medical professionals should be made on a regular basis so that they can accurately understand the issue and try to find the best solution for the same as well.
Apart from medical help, there are other options that can help alongside the same. These are spiritual groups, products, and beliefs that give the person hope for a better lifestyle and courage to face their issues and try to get out of those before they rot in there for nothing.
Some of the possible spiritual mental health solutions are:
1. 2 Mukhi Rudraksha
2 Mukhi Rudraksha is governed by Lord Ardhanarishwar Shiva and the astrological planet Moon. The wearer of 2 Mukhi Rudraksha gets relief from anything that makes the person highly unstable owing to mental health issues or anxiety and stress disorders of any kind. The wearer of 2 Mukhi Rudraksha gets hope and motivation to correct whatever went wrong and make their mark for a better future of their own. Know more about 2 Mukhi Rudraksha here.
2. 6 Mukhi Rudraksha
6 Mukhi Rudraksha is governed by Venus, the planet of emotional connection and rapid decision-making. As we are aware that the person dealing with a mental health crisis deals with emotional imbalance as well. Thus, the blessings of Planet Venus will help the person try and get over the negativity and make good decisions for themselves while trying to get out of the mental health crisis as soon as possible. Know more about 6 Mukhi Rudraksha here.
3. Sphatik Mala (Quardstone crystal)
Sphatik Mala is a rosary made of Quardstone crystal, the gemstone that is famous for spilling fire sparks when two such original Quardstone crystals are rubbed against each other. These beads are cooler than the normal atmosphere and they have the capacity of absorbing the heat from their surroundings. These beads bring the body temperature of the person down and keep them cold-headed. This is why the rampant heat of tension and mental stress is reduced to a certain extent. Grab your Sphatik Mala here.
4. Moti (Pearl)
Pearl is a gemstone that is considered heavenly for those who can afford to wear it as a pendant around their neck or as a ring on their pinky finger. People who are suffering from any type of issue related to the brain or head are suggested to wear Pearl (Moti) in silver as a pendant or as a ring because this is the only gemstone that connects the wearer's brain with the supreme powers of relaxation and calmness. Thus, an overhyped brain needs to calm down and it is possible only with Pearl (Moti). Since this is an expensive affair, sometimes people try alternatives, but in case there is anything that can help with a good and happy advancement from mental health issues, it is Pearl Pendant.
5. Silver Chain/ Mala
Silver chain or mala is essential for any human going through a tough mental phase. Pure silver chain is a cooling and calming element and it absorbs the heat of the body to make the wearer calm, cool and composed for their outward appearance. This chain helps the person think with a calm mind, even if the mind is cluttered with a lot of other things that can be very disturbing. Grab your Pure Silver mala here.
All these are not escape routes from mental health issues. These are also not sure shot claims for immediate and effective remedies.
You can also check some of our products we have curated for mental health specifically so that you don't have to worry about the same.
1. Rudraksha for Emotional Stability
2. Rudraksha Bracelet to Remove Laziness
3. Rudraksha for Anxiety Issues
4. Rudraksha for overall Happiness
5. Rudraksha Combination for Depression and Anxiety
6. Rudraksha for Depression and Health
8. Rudraksha for Mental Health and Peace
9. Rudraksha for Peace and Power
These are products that give the person energy and hope and support when they feel totally alone and in the most difficult circumstances. The person is not very comfortable talking to everyone, but these products can help the person gather the courage to think straight and resolve their issue or find the right person who can resolve their issues.
Thus, these are belief science-based emotional support mechanism that seems to work on a placebo and makes the brain win the battle between facts and emotions without hampering the actual medical process in the journey.
We at Rudraksha Hub do not suggest overlooking the medical requirements while keeping the belief and trust factor intact. We also suggest not to confuse these products with a sure-shot claim of remedy because there is nothing that can alone handle the wrath of such a serious issue like this.
To know more about Rudraksha and gemstones and religion and spirituality, visit our website here or read our blogs here. You can also check our new arrival products here. Contact us at wa.me/918542929702 or info@rudrakshahub.com for any issues, feedback, suggestions, and requests. We specialize in on-demand customization of products and we would be delighted to have your customization request as well for your specific requirements. Till then, keep reading and keep shopping from Rudraksha Hub..!!