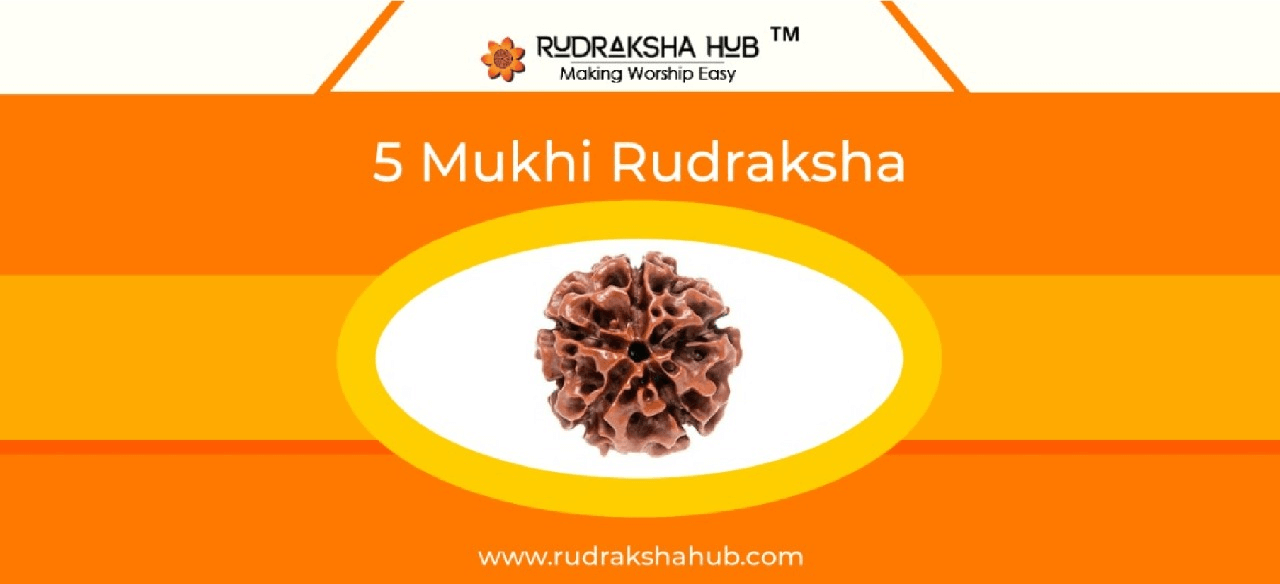 5 Mukhi Rudraksha are one of the most popular and influential Rudraksha beads; it represents lord Shiva's five different forms, symbolizing Lord Rudra Kalagni. These beads are worn mainly by saints or scholars. People also keep it to their office place or home to get rid of negativity and evil powers. Lord Shiva loves this 5 Mukhi Rudraksha mala. Mostly the worshipers of Shiva wear it to please him. It has the incredible power of releasing a person from unwanted bonds and granting them all the wishes. One of the essential qualities of this Bread is it suits everyone. This Rudraksha is so powerful because its master is Shiva himself, and this makes it more divine and sacred than any other Rudraksha.
Stories about 5 Mukhi Rudraksha
5 Mukhi Rudraksha is a representation of "Kalagni," which has the power to burn evilness; it can burn human's enemy emotions such as Krodh (anger), Moh (affection), Kama (lust), Ahankar (ego), and Lobha (greed). The five Devta (lords) has the power to control all five tatva (elements) of the human body, which are Water, Fire, air, sky, and earth. This makes it the most popular Rudraksha bead of all.
From ancient times many sage, saints, and scholars have been wearing it for purifying their sins and fulfilling all their desires; people believe that it gives life purpose to the wearer and makes him an achiever, and this is why someone who is distracted in his life must wear it.
Structure and types of 5 Mukhi Rudraksha
The form of 5 Mukhi Rudraksha
Five Mukhi Rudraksha can be identified by his five complete lines, which divide them from top to bottom. It is one of the most popular beads, and you can find if it's true or not by keeping it in the water, and if it doesn't leave any color, it is a true 5 Mukhi Rudraksha but be careful that it must be not broken or have any crack near center whole.
Types of 5 Mukhi Rudraksha
There is various type of 5 Mukhi Rudraksha, but the Java Indonesian and Nepali beads are the most potent beads of 5 Mukhi Rudraksha. These Nepali beads are more prominent in shape, whereas Java is smaller but has a smooth surface. If you have to compare these, both Nepali are more powerful beads. These Rudraksha beads are mainly imported from Nepal, Indonesia, but the highest number of these seeds are found in Nepal.
Master of 5 Mukhi Rudraksha
Possession of " Lord kaalagni Rudra"
Planet- Jupiter
Chakra- Vishudha (throat) Chakra
Jupiter is the ruler planet of 5 Mukhi Rudraksha, so it grants uniqueness and Optimism in a person. It also makes a person a quick learner and also gives spiritual and mental growth to the wearer. It also has the blessing of Lord Shiva and the power of Kaalagni form of him; this is why it is also known as "Kaalagni" Rudraksha.
Mantras and method of wearing 5 Mukhi Rudraksha
Various astrologers give various mantras for wearing 5 Mukhi Rudraksha, but most of them suggest 'Om Namah Shivaah' or 'Om hareeng Namah" to chant while wearing it. You should wear it on Monday after taking a bath and soaking it in non boiled water and milk. Then apply sandalwood (Chandan) on it and wear it on silk or wool thread while chanting the Mantra 108 times. Consider wearing it on Brahma Muhrat (early morning) and after worshiping it properly. Don't forget to chant the beej Mantra for 27 times while wearing it. Keep the mala on the puja Ghar (worship place) with flowers before wearing it.
Note- Always wear 5 Mukhi Rudraksha after organizing a PranPratishta Pooja to make it more powerful.
Who can wear 5 Mukhi Rudraksha?
People who are looking for self-awareness, good health, or peace should wear it. Anyone can wear it, but the people who suffer from distraction or need goals in life find it helpful for them. Just wear it by a concern to astrologers as things can also have side effects if they are not for you or you make any mistake in procedure; you can also concern with our expert astrologers at Rudraksha hub or the one you trust. You can also buy it to keep in your worship place (puja Ghar) or office (workplace) for benefits, but after organizing the pooja for it.
What is the importance and possessions of 5 Mukhi Rudraksha?
These are the main properties and importance of the 5 Mukhi Rudraksha.
It provides you with knowledge and intelligence.

It makes you more self-aware.

It is used for chanting Mantra's especially for MahaMritunjaya Mantra

It is a remedy for the malefic of Jupiter planet.

People with various diseases can also wear it.

It avoids painful deaths.

It grants you academic excellence.

It leaves a relaxing effect on minds.

Make you calmer.

Grant you fortune and works in your favor.

Gives you confidence

Five Mukhi rudraksha helps with the shape and good health.

Increase memory power in the wearer.

Shiva loves that bead, so he grants you his blessings.

Help in improving all the chakras in your body.
Benefits of 5 Mukhi Rudraksha
These are the various main benefits of 5 Mukhi Rudraksha
General benefits of 5 Mukhi Rudraksha:
It helps the wearer to get health and peace.

It makes a person fearless and goal-oriented.

It has the power to overcome Insomnia (sleeplessness)

It helps in getting various wishes fulfilled for the wearer.

It presents psychological and mental peace to the one wearing it.

It makes a person calmer after wearing it.

It helps in curing memory loss.

It makes you more self-aware.

It saves you from untimely death.

It is powerful for making a person more intelligent.

It brings luck to the wearer.
Spiritual effects:
It has the power of Jupiter so that it can save you from the harmful effects of the Jupiter planet.

A person who wants good health or peace in life should wear it.

It provides a person with Spirituality and mental strength.
Health benefits:
People suffering from chubbiness, cardiac problems, mental illness, stress, anger, diabetes, neurotics, etc., should wear it.

It cures blood pressure issues of the wearer.

Sugar patients and fat people should consider wearing it.

Many problems related to feet, liver, stomach, eyes, kidney, etc., can be fixed with the help of 5 Mukhi Rudraksha.
Benefits of different colors
White Rudraksha

–People who select white Rudraksha are praised with solid self-confidence, get physically strong, and take away all the complexity from the person's life.

Red Rudraksha

is the person who wears or devotes red Rudraksha divests with all the sins of past life and efficiently burnt.

Yellow Rudraksha

- The person who chooses the yellow color Rudraksha to wear gets blessed with a relaxed life.

Black Rudraksha

- This Rudraksha is for the health benefits, spiritual benefits, wealth, success, and developing an optimistic approach that helps a person lessen their problems, so the one who wears it gets all these profits.
The Do's of 5 Mukhi Rudraksha
Always have trust in it.

It is essential to worship it daily.

Please keep it on the place of worship along with flowers when you are not wearing it.

People prefer not to wear it on the bed while sleeping.

like speaking the truth while wearing a 5 Mukhi Rudraksha
The Don'ts of 5 Mukhi Rudraksha
Please don't wear it at the funeral or hospital

Ignore wearing a broken bead.

Don't share your bead with anyone.

Don't eat non-vegetarian food while wearing it.

Using Chemical soup while wearing it is not a good idea.

If you drink alcohol, 4 Mukhi Rudraksha bead is not for you.

Only wearing it because it is powerful is a wrong move.

People with greed should stay away from Rudraksha bead.
For other details or ordering Rudraksha online at premium quality, visit us on https://www.rudrakshahub.com/.